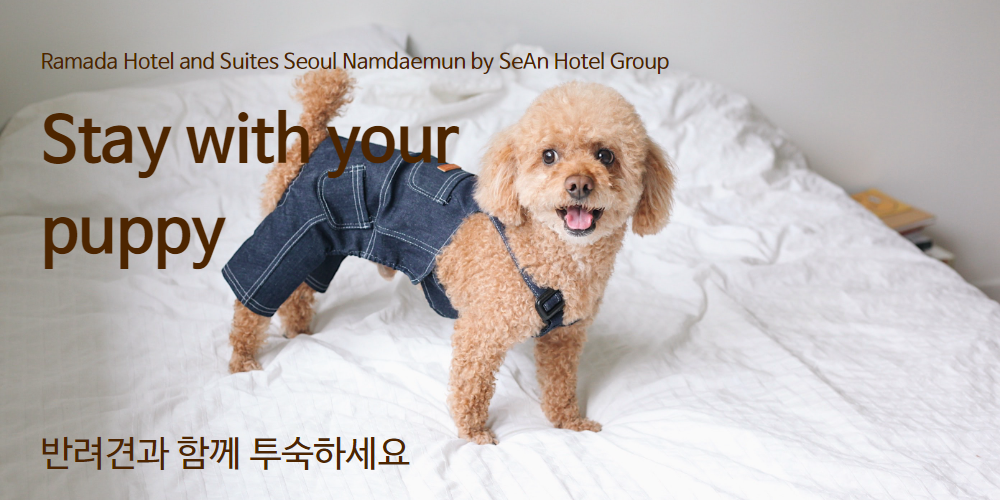 / STAY WITH YOUR PUPPY /
Room : All rooms
Among pets, only small dogs within 10kg are allowes and a maximum of 2 dongs are allowed per room.
A special cleaning fee of KRW 30,000 per pet per night is charged separately.
When you making a reservation, please enter information related to your dog's stay in the request box.
For guests with dogs, if you ask the restaurant for breakfast, you can put it in a take-out container by yourself.
---
/ Rules for dogs and guests /
1. Of the pets, only small dogs (within 10kg) are allowed and must not have any contagious diseases
2. When a staff member visits the room, be sure to use a cage or leash for the safety of your dog.
3. Dogs are strictly restricted in public places
and must be carried on a leash or in an arm or cage in public places such as lobby, hallway, and elevator.
4. Accompanying dogs should never be left alone in/out of the room,
and the hotel and staff are not responsible for accidents or loss of companion dogs due to carelessness of the guardian.
5. When defecating inside/outside the hotel, the excretion must be removed immediately.
6. If your dog is overly aggressive, you may be asked to leave without refund.
7. You are fully responsible for any damage or damage to the hotel caused by your dog.
Please agree to reimburse the hotel entity for any damages, liabilities, expenses and expenses
(including attorney's fees and costs of litigation).
8. Upon check-in, please agree to register the guarantee card.
In case of damage to the interior of the room or amenities caused by a dog,
the amount of the damaged item will be deducted from the deposit.
9. In addition, if cleaning or repair is required due to stains or damage caused by a dog,
please agree to any payment determined within the discretion of the hotel.